Pasture Raised Pork Chop Recipes | NIKU Farms
December 10, 2021
There's really nothing quite the same as taking a bite out of a super succulent pork chop! If you choose to order your next NIKU Farms box from Marita Fields, you'll have a wide variety of pork cuts to choose from – including a nice, thick chop.
The great thing about pork chops is that they're a great canvas for so many flavour profiles – sweet, sour, salty, spicy – no matter what your preference, you can put it on a pork chop and make it taste delicious.
Check out some of our recommendations for different ways you can cook your pork chops!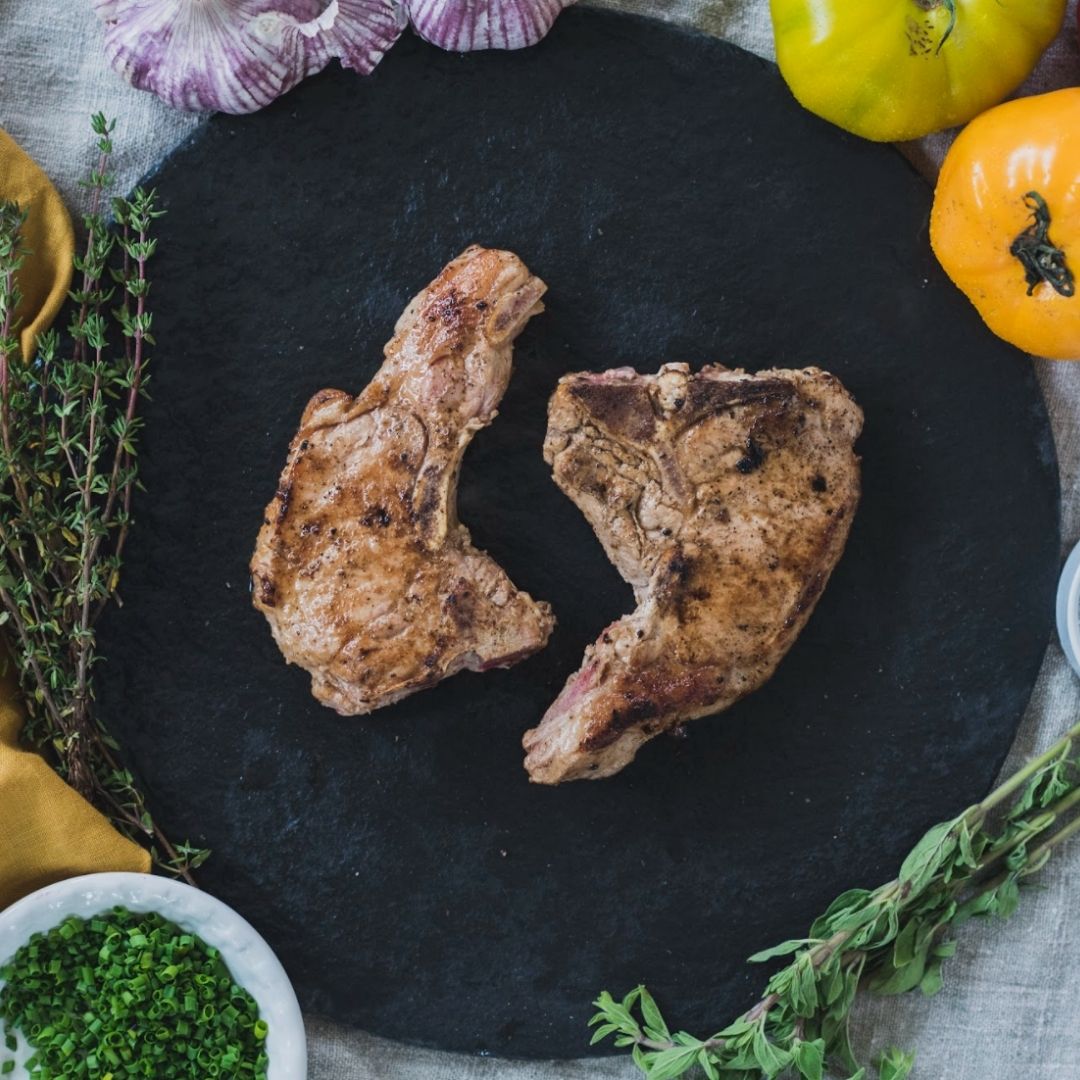 Honey Garlic Pork Chops
Honey garlic is always a people-pleaser – not too smokey, not too sweet. The contrast in flavours will help take the plain chops to the next level! Use garlic powder or minced garlic with your sweet glaze of choice and maybe a less smokey barbecue sauce to add another layer of flavour. Serve with mashed potatoes or a similar side dish for a comfort food meal that's sure to please!
Sweet Glazed Oven-Baked Pork Chops
If you find yourself constantly reaching for the sweets, there is so much you can do to make pork chops you'll love! Create a glaze with maple syrup, ketchup, or brown sugar; add some pears or apples on the side of your cuts. With the right savoury seasonings, the sweet glaze will be absolutely delicious.
Cook your bone-in pork chops on medium high heat until they hit an internal temperature of 145F.
Spicy Grilled Chops
Can't get enough heat? Make a spicy marinade with barbecue sauce, hot sauce, sriracha, red pepper flakes, or cayenne pepper – whatever your spice of choice may be – and let the chops sit for a few hours before putting them on the grill. A sweet barbecue sauce after cooking will offset the heat!
Breaded Pork Chops
If you're looking for something a little more elevated, try breading your chops! Coat them in flour, egg, then breadcrumbs, season with salt and pepper and toss them in the fryer. You can marinate the pork in your liquid seasoning of choice, or use your favourite barbecue sauce to dip once they've cooked.
Now that we've got you drooling over some pork chop recipes, add a package of chops from Marita Fields to your next NIKU Farms order, and give them a try!