How to Cook Osso Bucco | NIKU Farms
February 7, 2022
Are you familiar with osso bucco? You may have seen this cut of beef in the NIKU Farms product listing, but had no idea what it was, or how to cook it. We're here to tell you everything you need to know about the basics of this comfort food – what part of the animal it is, how to cook it, and what side dishes to serve with it!
What exactly is osso bucco?
Osso bucco is a cut of beef that literally means "bone with a hole". It refers to the marrow hole near the centre of the cross-cut beef shank.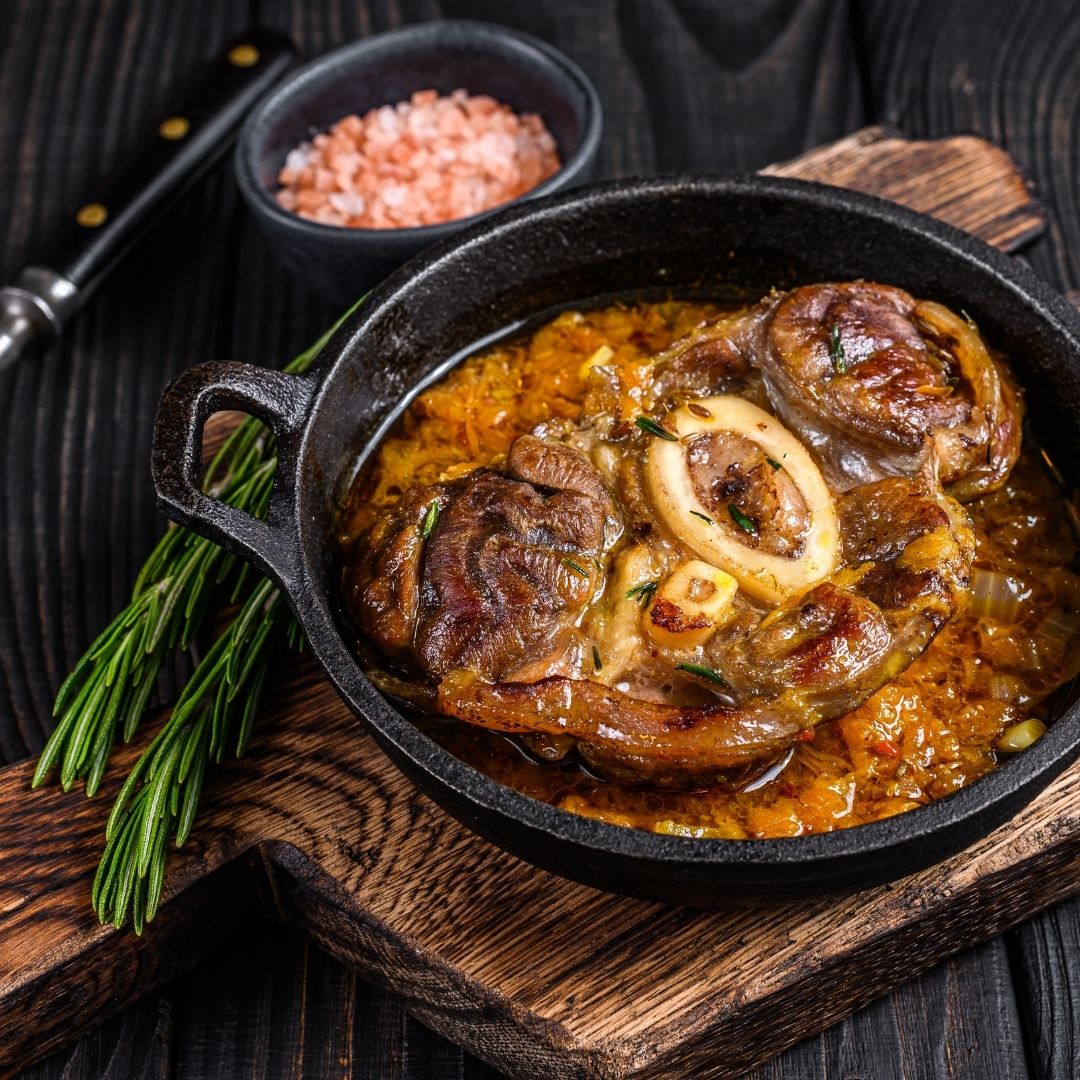 Is beef osso bucco healthy?
The slow cooked beef has quite a few health benefits – it actually boosts joint health! Osso bucco is high in collagen, so when it's slow cooked, it's great for anti-stress, anti-inflammatory, and great for your digestion.
Our osso bucco always comes from beef that has been pasture raised, grass fed, non-GMO, with no antibiotics and no added hormones!
How to cook osso bucco in the slow cooker
Season your beef shanks and cook in a pan with olive oil on medium-high heat for a couple of minutes per side until browned on the outside, then put your pasture raised meat in the slow cooker.
Add crushed tomatoes, tomato paste, beef bone broth, garlic, and onion, as well as your seasonings – salt and pepper, rosemary, or thyme, if you like. Don't forget to add root vegetables like carrots or celery before putting the lid on your slow cooker and setting to cook on low for 8 hours.
When it's finished cooking, you'll be left with an incredibly tender and flavourful home cooked, slow cooker meal!
Side dishes
The best side dishes for this weeknight dinner would be peas or mashed potatoes. You want something that cuts the acidity of the tomatoes and garlic, so a creamy side dish works best.
Have we got you craving a tasty osso bucco meal? If you're in the mood to slow cook a delicious cut of meat, add osso bucco to your next NIKU Farms meat subscription box order from Blackview Farm or Marita Fields!
Check out our blog for some other easy slow cooker recipes!